My mom and I started baking for our holiday gift giving today. You may be thinking, "Really? Today? On November 9th?" We're actually behind where we were last year. My mom started in October and I started the first week of November. If you bake the right types of cookies that have long freezer-times, you're safe to start baking early. And with as many cookie gifts as we give out and the thousand of cookies we end up pulling off, we simply have to start early.
Today we made four cookies - crackles, peppermint pinwheels, cappuccino cookies and coconut bars. It was a rather discouraging baking day. First, my mom's crackles didn't turn out, well, very crackle-y. They're pictured above. They tasted great, though, and still looked very pretty. After the dough cooled down she was able to make the whole crackle-effect better, or at least that's what she reported to me after I returned home.
Second, my peppermint pinwheels didn't turn out nearly as nice the photo in the cookbook. I'm really bummed, too, because this was a very long, involved recipe. I added crushed peppermint to the white swirls, and I shouldn't have done that because it melted and made the cookies all blotchy. I'll leave that out next time - or make sure I crush it extra fine. The white swirls also browned in the oven, and they weren't supposed to, but when I pulled the cookies out early they weren't finished baking yet. They do taste mighty yummy, though.
Here's a couple of the best cookies: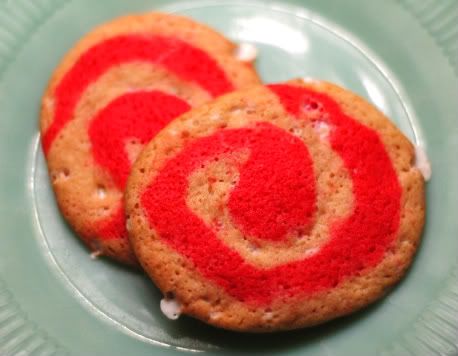 I haven't done the cappuccino cookies yet - I was so upset about the stupid pinwheels that I decided I'd hold off on that dough until tomorrow. (All I have left is to bake the dough - it's a slice and bake recipe.) The bar cookies my mom made earlier turned out really well, although I didn't taste them.
When we bake, the most important thing for my mom is that the cookies look pretty. The most important thing for me is that they taste good. And even though our cookies today didn't go as planned, they still meet both of our requirements. We're now about 25 dozen cookies closer to Christmas.