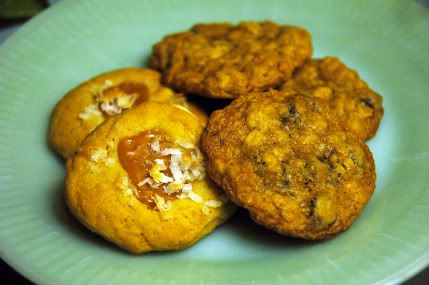 I needed to send a gift to Amy, and what's a package without some cookies, really? So last night I set out to bake a couple of different types to ship off to North Carolina.
My mom called mid-baking to let me know a friend is hosting a barbecue get-together at a local park on Sunday in memory of her son who passed away last year, and we're on dessert duty. The extra cookies were packaged up and stuck into the fridge for next week - pretty perfect timing, if I do say so myself.
First, I started with a basic chocolate chip cookie dough recipe, slightly adjusted, and used white chips instead of semi-sweet. After the cookies were half baked, I topped each with a sliver of caramel and sprinkle of coconut (which toasted nicely for the remaining 7 minutes of baking). I'm not actually a huge white chocolate or caramel fan myself, but these cookies were scrumptious and pretty to boot.
Second, I made a chocolate chip oatmeal cookie. The recipe was just on the back of the chocolate chip bag, and I had to adjust it because I ran out of some ingredients. (A little less brown sugar, a little more granulated sugar, extra flour and extra milk.) These were delicious and didn't even totally flatten out, which seems to be my usual luck with oatmeal cookies, for some reason.
I'm trying to figure out what else to bake this week in preparation for Sunday. I have a lot of chocolate chips left over, so maybe some type of chocolate chip bar is in order. On Saturday I'm going to bake mini cupcakes - they take a while, but I think they'd be perfect for a huge barbecue.