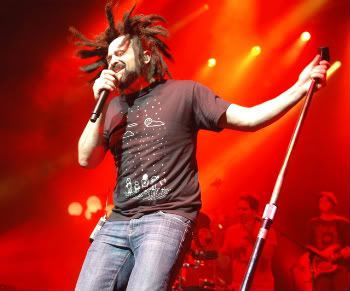 Counting Crows, Maroon 5 and Sara Bareilles put on such a phenomenal show Friday night in Atlantic City, I honestly couldn't see how they would be able to top it Saturday night in Camden. And while they didn't necessary top it the next night, the show was just as amazing and high energy.
I took the photo above of Adam Duritz Friday night, and let me tell you having photo clearance at the concert of one of your favorite bands is just about as cool as it can get. I was literally standing a mere foot away from Duritz while he rocked out "Mr. Jones." It was hard to concentrate on taking the photos - I wanted to just stand and stare and sing. However, since I was the most inexperienced one at the show, I kept clicking away and ended up taking over 700 shots. I think this one is my favorite and really captures the intensity of the Counting Crows performance.
I'm not a huge Maroon 5 fan, mostly because I'm not all that familiar with their music aside from singles. But even if you're like me and aren't total Maroon 5 diehards, you have to see the band in concert if you like their radio hits. Adam Levine and crew are absolutely awesome. The A.C. show was marred by some technical problems and - more importantly - the band leaving the stage because of their disgust over fighting fans, but they still pulled off a great set. Saturday night Levine was totally more in tune with the crowd and had us all on our feet for well over an hour.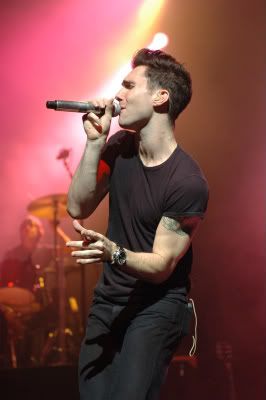 And Sara. She played the exact same set both nights, which I thought was kinda' odd, especially considering how close the shows were. Regardless, I loved it both times. She is definitely one of my favorite artists at this point (I listen to her CD constantly - all thanks to the wonderful boyfriend who got it for me!) and I wish she played more than a half an hour. She's also beautiful and charming and I really hope she makes it in the music business. You could tell Duritz thought the world of her, too.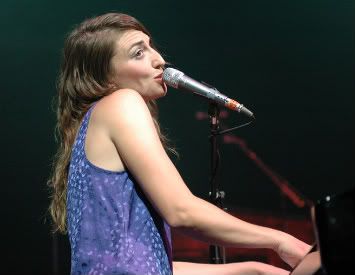 This was such a great weekend. Not only did I get to see two out-of-this-world concerts with some of my favorite people (John, Ryan, Felicia and my little bro) and get the chance to take photos of these wonderful musicians, but it was also my brother's birthday (Happy birthday, Johnny!) and I got to see one of my other favorite people today, Miss Amy B., and meet her terrific dog, Djudju, albeit for a very brief amount of time.
Ah, happiness. Let's hope this lasts deep into the coming week.