Today was the humane society's golf tournament. As I previously posted, I was in charge of the boards for Putting for Paws, where kids got a chance to take a swing for a $1 and win prizes. I made the boards out of that poster board/foam board stuff, paint and wooden sticks on the back to prop them up with. I didn't factor in the wind, so I had to prop the boards against the little flags on the putting green. That was the only disappointment. Otherwise, I'm very happy with how they came out.
Here's an action shot: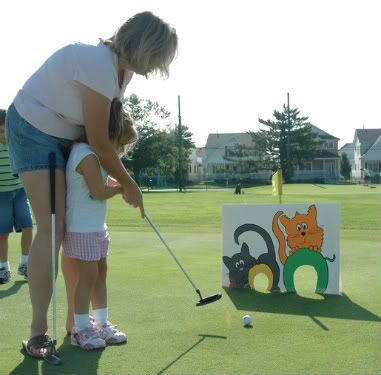 And this one was modeled after Chipper:
I don't know how much they made off of it. By the time I left we only had $10 - no one really brought their kids for the putting. I mean, how do you play golf and have little kids with you, anyway? It was still fun to do, though.
Tonight's agenda? Sculpey pumpkins and Obama T-shirts.