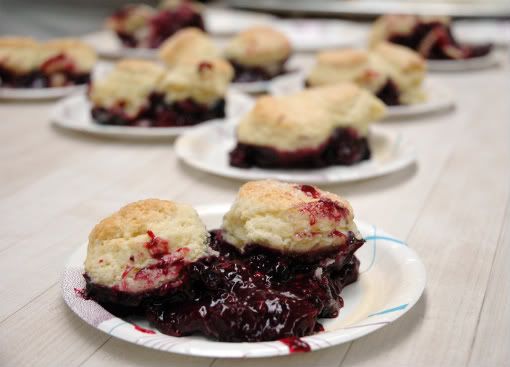 Mmm, New England desserts. They're full of berries and apples, peaches and plums, topped with streusel and oatmeal and homemade tea biscuits. There's plenty of maple flavoring, and a touch of molasses and generous dollops of creamy butter. And, of course, New England baking is full of silly words.
My mom and I took a "New England Baking" workshop at the Academy of Culinary Arts Wednesday evening. It was a delicious class packed full of tips and tidbits of the best from up north. We made many desserts: Apple Pandowdy, Peach and Plum Crisp, Indian Pudding, Very Cherry Berry Cobbler, Blueberry Buckle, Irish Tea Biscuits, Wet Streusel, Maple Pecan Scones... It certainly wasn't the best class to take on a diet, but I did a good job not gorging myself on all of the tempting treats.
The top photo is of the Very Cherry Berry Cobbler topped with Irish Tea Biscuits. I'm not a huge cranberry fan, but as you can imagine there are plenty of cranberries in New England baking. The cobbler was still delicious, though, and the biscuits were crisp, yet buttery and fluffy, too.
Below is the Peach and Plum Crisp, although we left out the plum. The difference between a cobbler and a crisp is that the cobbler has the thick, biscuit topping, and a crisp is topped with a crunchy coat, in this case butter, brown sugar, flour, oats, walnuts, lemon zest, cinnamon and nutmeg. I'm in love with peach desserts, so this was especially delicious for me.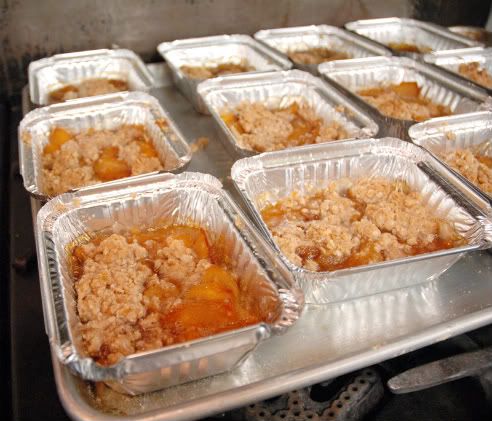 Next is the Maple Pecan Scone, which, yes, is in the shape of a maple leaf! This is actually the only dessert I tasted at the class - I split one with my mom. It had a subtle, sweet maple taste and was so, so smooth and buttery. I loved it. I'll definitely be making these at some point.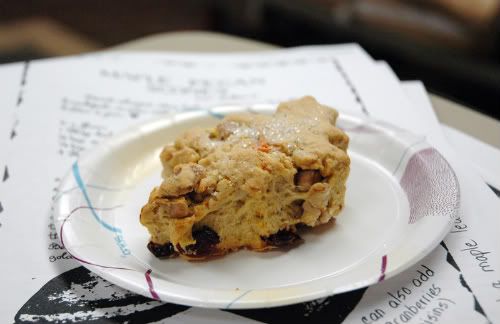 I brought home most everything for John to taste test (and I did a bit of taste testing with him myself), and last night he tried the Apple Pandowdy, Indian Pudding, Peach Crisp and Very Cherry Berry Cobbler. We both vetoed the Indian Pudding, but I think if it was served with vanilla ice cream I'd sing a different tune. He liked the other three, but when I asked him to pick a favorite he deliberated and then decided on the Apple Pandowdy.
"Because it's named after me," he said. And from there on out it became the Apple Pan-Dowd, in tribute to John's last name.