Ryan gave me a beautiful print for my birthday from
The Black Apple
. This is the Celia Cupcake Print, and I adore it. How fitting, too, with the cupcake. I may have to invest in a cupcake headband for myself.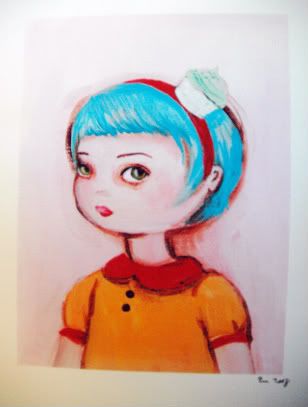 I love The Black Apple, and equally so Emily Martin's blog,
Inside a Black Apple
. It's totally worth an add to your blogroll.
And, while it's very much deserving of its very own post, in my opinion, I'm going to share the wonderous bag John gave me for my birthday right here. I don't know how many people would be entertained by a post based solely on me gushing about my new bag. Because I am truly, dearly in love with this bag to the point where I may have to cast John to the side and marry it. And how sad would that be for John, as well as ironic, seeing as he gave me the bag?
This, my friends, is the Lucky Brand Abbey Road Foldover Bag. (Abbey Road - can we say fate?) It is the most beautiful bag I have ever come to acquire in my short 25 years, but arguably one of the best I most likely will ever call my own.
My boyfriend is simply the best for giving it to me. And I will feel badly about the whole casting aside of John, but what did he expect? Maybe I'll give him something equally as amazing to remember me by. Like a
WWE Championship Spinner Engraved Title Belt
.