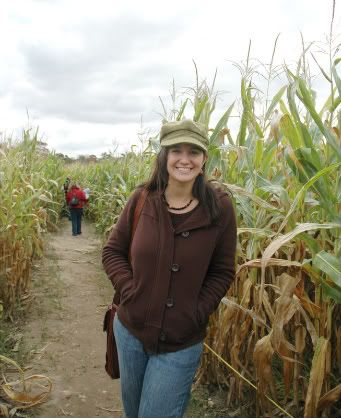 This weekend flew by! Friday night I stayed in, crafted, and seemingly got very little accomplished except for a heap of teeny pumpkin earrings. On Saturday I got my new driver's license (the DMV took a whole 5 minutes - I swear, it was amazingly fast) and had to work for part of the day covering some events. Saturday night I went up to John's and we had dinner with his friends.
And Sunday - Sunday was a fine fall day. Ryan, Felicia, and I met up with Stef and co. for a maize maze, pumpkin picking and hot apple cider. We went to Butterhof Farms, and it was a lot of fun, although a bit disappointing when it came to the pumpkin picking. It was more pumpkin picking-up, with already loose pumpkins. It's okay, though... still a good time.
Here's a shot of Sam running through the corn maze. We didn't make it through (it was a bit much for the little guys). Ryan found a maize maze that you go through with flashlights at night time - I'm psyched to try that.
Little Finn guarded the loot. He also tried to eat the pumpkins, but we quickly squashed (ha!) that plan.
The hayride was a bit silly, what with the fake turkeys and deer along the pathway. We enjoyed it, although perhaps not as much as Salem did.