If you like to bake and you haven't had the pleasure of checking out "Hello, Cupcake!" by Alan Richardson and Karen Tack, I highly suggest you stop reading now and head straight to your local library or book store to procure a copy. Actually, why not check out what I was inspired to make first? Trust me - then you'll be even more motivated.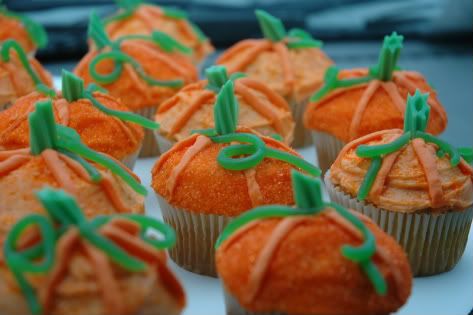 I made these pumpkin cupcakes for a bake sale at a nearby church. The cupcakes themselves were pumpkin cinnamon flavored - I used the recipe from "Cupcakes: From the Cake Mix Doctor." (That's another must-have if you bake cupcakes or cakes... Anne Byrn's books rock. Each recipe uses a boxed cake mix, but other fun ingredients to make it semi-homemade and simple.) I filled the liners so the cupcakes would dome nicely at the top, and then I made a homemade buttercream icing tinted orange for decorating. Each cupcake was covered in icing, rolled in orange decorating sugar, piped lines, and accented with Twizzlers rainbow (green) for the stem and Twizzlers pull-apart (sour apple) for the vines.
It was so easy. And that's the best part of "Hello, Cupcake!" - anyone can do the recipes. It may take a bit of patience and a lot of time for the more intricate designs, but they're not super difficult. And there are tons of tips in the book's introduction to explain the best methods to use, from icing the cupcake to piping designs.
They tasted as good as they looked, too. The pumpkin cinnamon cupcake was scrumptious, and of course you can never go wrong with homemade buttercream.